This page is intended to help you as a parent encourage and guide your children's practice, regardless of your own musical background.
Practice certainly changes as the student becomes more advanced, but there are many common elements of good practice that should be included at all levels of piano study. Therefore, you may find it helpful to read this entire page, regardless of your own child's current level.
"Music rightly is the best mind trainer"
– Charles William Eliot, President of Harvard University,1869–1909
Principles of effective practice at any level
Learning notes and rhythms correctly right from the start is crucial. Anything learned incorrectly becomes very difficult to unlearn later.
Practice is much more than playing the entire piece over and over. Harder sections must be worked on in isolation - slowly and carefully extra times each practice session. I often indicate this in students' lesson notebooks.
It is preferable that a specific time during each day/evening be set aside for piano practice, thus making it part of the student's daily routine. A younger child may need some parental supervision in the first year, but ultimately the goal is to have the student be able to carry out the instructions and guidance from the lesson on his / her own.
Learning how to learn new pieces is as important as perfecting specific pieces for an exam or festival. Therefore I expect my students to learn a variety of pieces over the course of a year. I also believe it is important to learn from listening to other people play - such as on iTunes, YouTube and live performances by both fellow students and professional musicians.
"I would teach children music, physics, and philosophy;
but most importantly music, for the patterns in music
and all the arts are the keys to learning" - Plato

The Beginning Student
For a younger beginner, age five or six, I recommend 15 - 20 minute of practice, six days a week (a little more for an older beginner) for the first few months of piano lessons. Ideally, after one year of lessons, beginners should be practising 30 minutes a day.
At first, you should hear your child saying out loud finger numbers for their scales, as well as hear them counting the rhythm and saying alphabet letters out loud for the notes in their pieces. If metronome markings or goals are given in the lesson notebook, the student should follow these daily.
You can also encourage and help your child to listen to one classical piece of music on iTunes. DVD or YouTube a couple of times monthly. Just ask me if you'd like suggestions.
The Junior Student
For students doing Royal Conservatory grades 1, 2 or 3, practice should be 30 - 45 minutes daily, depending on the amount of music assigned. Pieces at this level involve more complex rhythms so it is essential to count regularly at home to master the rhythms in the first week studying a piece.
Dynamics and general expression take on more importance at this level, so listen for contrasts and general fluency as your child learns more involved music. Again, slow practice on a daily basis of more tricky spots is a must. Some of the scales and technical requirements will now be hands together, so practising with the scale book to ensure correct fingering is essential.At this stage you can take your child to a couple of Winnipeg Symphony Orchestra or other classical music concerts throughout the year. The Nutcracker Ballet or WSO Concerts for Kids are a good start for the live musical experience.
The Intermediate Student
At Royal Conservatory grades 4, 5 and 6 the repertoire begins to resemble short concert-type pieces. Some of the music will demand more speed and fluency technically, so scales become even more important at this stage. Practise should be 45 to 60 minutes daily
.
Listening to others every few weeks, either live or on recordings, should be part of the piano assignment every few weeks to help students develop their own sense of musical creativity in terms of dynamics, expression and personal viewpoint about the music they are playing.
At this level, the student may be working on four or five pieces weekly, and it may not be possible to give quality time to all pieces as well as technique every single day. In this case, the student should devote 10 - 15 minutes a day to technique, then 15 minutes each to selected pieces; any music not covered one day should be practiced thoroughly the next.
The Advanced Student
In Royal Conservatory grades 7 and 8 the repertoire becomes quite interesting artistically and fairly demanding technically. The grade 8 Royal Conservatory exam can count as a grade 12 high school credit, and accordingly the standards demanded at this level are more detailed.
Success at this level requires a practice commitment of 60 to 75 minutes daily which must include slow, precise repetition of intricate passagework and rhythms. Phrasing, dynamic contrasts and general fluency must be achieved in order to bring the music to life. When these goals are reached the result is truly beautiful and inspiring.
Regular visits to You Tube ,etc, will help the student formulate some of his/her own interpretations and at this point in their musical development, students should be attending classical music concerts several times a year. Virtuosi Concerts held at The University of Winnipeg offers an excellent recital and chamber music series with very affordable student ticket prices.
The Senior Student: Royal Conservatory Grades 9, 10 and Associate
Some, although not all, serious piano students at this level will eventually go on to study music at university. Repertoire at this level is concert calibre, and the student must, at some level, enjoy the thrill of performance and all the angst that comes with it, in order to carry on successfully.
Successful results at the grade 9 and 10 level require as much work as any other demanding high school course. Intricate musical and technical detail needs to be addressed regularly, which requires a daily practice commitment of two or more hours.
Students should also be playing in public regularly and participating in the Winnipeg Music Festival, MRMTA Scholarship Competition, and organizing their own little house concerts in order to help develop performance skills.
To be successful at the Associate level (Associate of The Royal Conservatory Performance Diploma) students must be highly motivated with a very strong work ethic to achieve this significant level of pianism. This will require 20 or more hours a week of effective, disciplined practice.
The winter and spring student piano recitals are an important part of the Ryz studio experience for students at all levels and ages. Recitals provide a tangible goal to work towards throughout the school year and are opportunties to recognize results of students' hard work.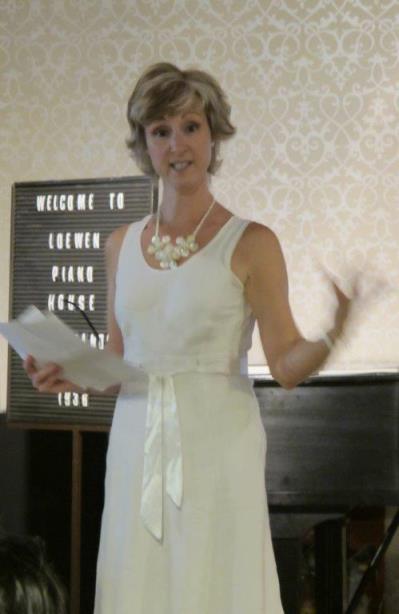 Recitals are also a chance for younger students to imagine how they may play in the future as they listen to the more advanced performances; for older students, some of whom are already teaching themselves, recitals offer a pedagogical perspective of younger students on stage; for parents recitals provide context to see how their youngsters are progressing.
Therefore, I expect everyone attending these events to stay and hear the performances until the very end of their recital. That's why I make a concerted effort to split these evenings into two manageable time commitments so students will still be able to complete homework and study for school tests that night.
I like to think that many of my students are going to be be future supporters / patrons of the arts whatever career they pursue and wherever they live, so these recitals are also an opportunity to practise the etiquette expected at professional arts performances of all types. Therefore all students and especially younger siblings attending should be able to sit quietly for the hour, because any talking during the performances will disturb the performer on stage.