"Jacqueline Ryz is a gifted pianist and teacher whose passion for music inspires audiences and students alike. Her professionalism, skilled teaching and approachability allows for her to develop pianists of a very high standard. I highly recommend her as a teacher for beginners as well as students who are already established pianists. Jacqueline's motivational teaching style has inspired my sons to practice and develop an excellent work ethic; they quickly developed into fine young pianists. Since I hold a degree in music with a major in piano, it was of great importance for me to have my sons study with an excellent and highly competent teacher. Over the past ten years, Jacqueline has become a treasured piano teacher as well as an excellent mentor and friend."
- Carol L Ridd
Arts Consultant,
River East Transcona School Division
"Music is a very important part of my life. It has revealed many opportunites that I would not have considered and has taught me to appreciate different things in life.
I started taking piano lessons when I was 6 years old, and studied for 13 years under Ms. Ryz, who guided me and provided constant encouragement. She not only taught me to play the piano, but to enjoy and appreciate what music could offer me. As her student I leared many things. Often, there were "life lessons" taught within the music lessons.Through piano, Jacqueline Ryz helped me explore and achieve a good work ethic, patience, determination and perseverence, as well as acheiving goals.
Today, I am the director of a children's choir, accompanist and vocalist at my church, and have been teaching piano for the past 3 years. I want to be as positive an influence to my students as Jacqueline was with me; like her, I am determined to help inspire others to explore and discover their love for music.
Ms Ryz has been both a mentor and a friend and I will forever appreciate her hard work and effort. She has been one of the major role models in my life, and I will never forget that she was one of the people that significantly influenced me, helping mould me into the person I am today."
- Michelle L.
"As a parent of student of Jacqueline's I have been extremely pleased. Not only has my daughter developed as a pianist and has a passion for music, more importantly she grew as a person with confidence and with poise. I believe these attributes are of tremendous benefit to her personally in a way that that contributes a strong sense of fulfillment as she continues on her life journey."
- Carla J.
"A teacher who invests her experience, passion for music and inspiration for individual success in every student is rare. Our son Ray has been a student of Jacqueline's since 2010. Under her mentorship Ray has grown not only in his musical aptitude but more importantly in his appreciation and love for music. Jacqueline instills the fundamentals with attention to detail and an emphasis and encouragement for finding and demonstrating each student's personal interpretation of every piece. Jacqueline has encouraged and supported Ray in all of his personal goals, performances and musical interests. This has enabled Ray to excel in his musical experiences and has provided a foundation for a lifetime of enjoyment playing music."
- Rick and Arlene G.
Over the past eight years, I have been mentored by the most significant educational influence of my life, Jacqueline Ryz.  Every time I come to a lesson with Jacqueline, I think of the time when I first came to the studio and sprinted from washing my hands to the piano to showcase the music I had been working on from the year previous. From that moment eight years ago, so much has happened, and my musical life has grown from a side hobby to a full out dedication that I love and continue to enjoy. In the early years, I started by learning the simple fundamentals of music, later being provided many opportunities to showcase my music through various performances. These opportunities have allowed me and my musical peers to be pushed beyond our comfort zone with enjoyment and gratification. As I am writing this in my Grade 10 RCM year, it is easy to look back at all that I have learned and accomplished, and to look forward to what is ahead of me.
Throughout the years, Jacqueline has guided me through first-class honours with distinction exam results, winning and being runner up in Winnipeg and Provincial Music and Arts Festivals, and receiving scholarships through performance recognition such as the MRMTA Scholarship Series and the Hurton Family Scholarship in the Provincial Music and Arts Festival.  Jacqueline has been the most significant influence of my musical and scholarly success.  As the years have progressed, we have developed much more than just a teacher-student bond, but a friendship.  I feel she understands and sincerely supports me and my musical abilities, and has also expanded my love for music.
- Raymond
"I have truly appreciated having a teacher who is extremely talented, knowledgeable, caring, patient, and someone who believed in me and pushed me to become the best pianist I can be. I have learned so much from you in both how to play and how to teach the piano, and I am always proud to say you were my piano teacher. I couldn't have accomplished any of my exams without you. Thank you."
- Ashley S., ARCT
"My studies with Jacqueline Ryz have proved invaluable not only to my musical endeavors but to multifarious ones as well. Her encouragement of discipline and hard work has laid the foundation for many of my successes in life. I strongly encourage the aspiring musician to seek her instruction - an opportunity and privilege awaits them."
- Clay R.
Student, University of Manitoba
."Ever since 2004, music has been part of my life. Playing on the piano has now become a daily routine for me. A day without piano feels like something is incomplete. Lessons with Ms. Ryz are challenging as well as rewarding. It is necessary to practice everyday in order to be prepared for lessons. Usually if you have practiced and tried your best, you will be recognized. However if you do not apply yourself and Ms. Ryz knows that you could play and practice well, she would not be pleased. When you get compliments from Ms. Ryz, you know she really means it. Another thing that I have gained from piano lessons with Ms. Ryz is confidence in myself. She teaches me how to perform with confidence. When I first started piano, I was extremely nervous whenever I had to speak or perform in front of a group of people. However, after many recitals and performances in the Winnipeg Music Festival, I no longer become nervous or agitated when performing or doing presentations on projects or science fairs. The one thing that I really appreciate from Ms. Ryz is the fact that she understands her students and takes the time to select different music for each of her students. Whether a student likes baroque music or contemporary music, Ms. Ryz has it all!"
- Gabriel T.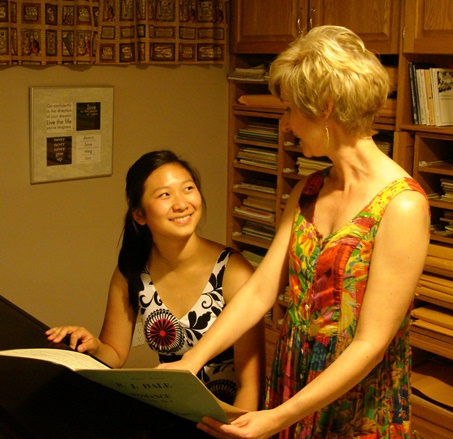 "There are going to be many people who walk in and out of your life, some you will remember and some that will become fading memories. Only the most important people will have a special place in your heart during your lifetime. I have been a student of Jacqueline Ryz's for several years now and I feel that she has not only to become a teacher to me, but a role model and friend as well. Learning piano with her is really a great pleasure and privilege because she has such a wide background in music. She is well-educated and hard-working and knows how to deal with each individual student's needs. I've come a long way in piano, finally reaching one of my final years and I don't believe that I would have come as far as I have now, if I were not studying with her. She offers her own performance experiences, a variety of recitals to polish our stage presence in front of an audience and the great quality of knowing how to form a bond between a teacher and student. She possesses the qualities that I believe, can make anyone successful. Jacqueline has patience with me when I don't play well, and is supportive when I achieve my goal. She has become a friend to me in these recent years and I feel that Jacqueline is someone that I look up to. I remember one time, she told me "I hope to teach piano to a student so that in many years from now, the student will still be able to play the piano and enjoy it as a hobby, as opposed to remembering it as a 'chore' to do". She is strict and detailed, but knows that competition can only last so long and that really being able to play piano and purely enjoying it is the key to success in her teaching. I'm so very grateful that I have the opportunity to learn from such talented person. Jacqueline will definitely be someone that I will look back to in 20 years time and remember her as a teacher who has forever given me something that I will carry on for the rest of my life: the beautiful gift of playing the piano."
- Grace W., ARCT

"I cannot even begin to imagine what my life would be like without music. Music is one thing you can always rely and enjoy, without fail. I have always loved to make music. Besides the piano, I also play the trumpet in my school concert and jazz band. And I can say that after learning piano and having the understanding of the rules and fundamentals of music theory, learning additional musical instruments was made considerably easier. By learning piano, I am already exposed to various kinds and styles of music, upon which I use that as stepping stone to other things musical. I truly believe that having a musical education is very important. It opens so many doors, without which, I could not have found without music.
I have to say, studying with Ms. Ryz, for more than six years, though very demanding, has been a rewarding and fulfilling experience. Without her, I would not be able to have the opportunity to explore the many possibilities and types of music. Since becoming her student, Ms. Ryz has made piano more interesting to learn. I have preformed three full movements of concertos with her as well as duets with my brother. I enjoy the challenge of trying to master a new form and style, which I may not have encountered before. As well, I would not have been able to play in the Winnipeg Music Festival, or the Skywalk concert series. For that, I am thankful. For me personally, as I get older, the demands and workload of school, sports and other activities becomes quite heavy, so much so that it seems like that I would never have time to practice piano. However, the discipline and time management instilled in me through piano since I was young make it possible. Ms. Ryz is extremely supportive and understanding, helping us makes everything work out as best as possible. What can I say? Piano is a joy and learning it with Ms. Ryz makes it even better."
- Michael T.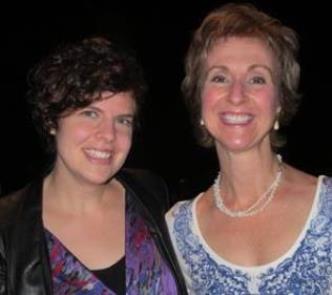 "I took lessons with Jacqueline from 2004 until 2008. I learned so much in the time I spent with her. She really brought my playing to a new level. When I started with her, I was not confident in my abilities as a performer. She taught me how to be poised on stage and how to perform successfully through my nerves, how to memorize effectively so that I could always recover from my mistakes, and how to hide the mistakes I did make on stage. Jacqueline was always willing to give her time for me, whether that be extra lessons, or support through phone calls and emails. Jacqueline really showed her support when I decided to audition for music (majoring in piano) at the University of Manitoba and Brandon University. Before I started lessons with her, I never thought I could have a career in music. However, she made me believe otherwise. I got into and was offered scholarships from both schools, and graduated from the Faculty of Music at the University of Manitoba. I have Jacqueline in large part to thank for getting me there. I learned so much in my time with her, and I value her greatly as a teacher, musician, and friend."
- Kati L., ARCT, BA, B.Mus
"I was very fortunate to work with Jacqueline even though it lasted only one year due to my family moving to Toronto. Because of Jacqueline, I was able to understandthat true musicians never play only "from the fingers." She was extremely honest with me during lessons and helped me with a lot of things I need to improve upon. She made me realize that I could achieve much through hard work. I really appreciate all the performance opportunites she gave me. The biggest thing I love about Jacqueline was that she cared so much about me and always supported me when I needed help. She still supports me now even when I live far away and it is rare to find a teacher that cares so much about former students. I am very happy that I was able to find one of the best teachers that I could ever find in my entire life. She has been one of my biggest influences as a performer and it would have been impossible for me to reach this high level without her. I am truly grateful for her energy and dedication!"
- Amanda L., ARCT, Toronto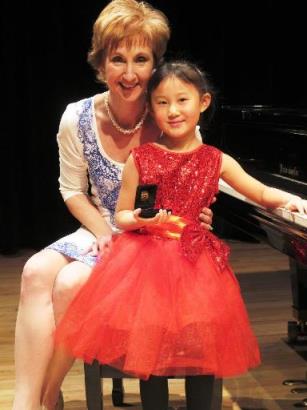 "Jacqueline is an amazing teacher! I have been with her since I was 4 years old. Now I'm 9 and in grade 5 piano.  She is kind, patient, and very encouraging and supportive.  I feel motivated to learn more every day, and she's always there for every step of it. She has pushed me to my fullest potential and I have achieved many great results at piano competitions and RCM exams. My piano would not have gotten this far without her. I'm so grateful for her and anyone would be the most luckiest to have her as their piano teacher."
- Love, Victoria
"Jacqueline Ryz has been very influential in the musical progress of my students. She has adjudicated them and worked with them in a masterclass setting. Her one-on-one is perceptive (i.e. she "diagnosed"; the weaknesses and strengths of each student and subsequently clearly demonstrated and guided the student towards improving). Her knowledge of the instrument, its technical requirements and music genre is far-reaching and she is able to use analogies, tips and interesting stories to strengthen every student's understanding. Another ability is her coaching of ensembles both duets and 2 pianos 8 hands — these performers developed beautifully under her tutelage. Ms. Ryz has an excellent command of the English language which allows her to be highly effective in communicating with each student. Overall, Jacqueline Ryz, as an educator, produces work only of superior quality."
-Jane Duerksen,
BN, ARCT (performer), ARCT (teacher), RMT
"I started lessons with Jacqueline about three years ago.  I had taken a rather long break (over 25 years) from piano and was looking to once again pursue piano lessons.  I was unsure of what to expect having had such a long break and was quite nervous.  That didn't last long.  Her wealth of musical knowledge combined with never-ending encouragement has made my decision to take lessons an incredible journey.  I am looking forward to continuing my musical journey with Jacqueline ... her belief in me has given me the inspiration to continue and to strive to be the best I can be."  
- Sharon K
Jacqueline or Ms Ryz (as we fondly call her) has not only been an exceptional piano teacher to our kids but also a true inspiration and a positive influence. She has instilled in them lifelong lessons on discipline and time management while at the same time developing a deeper love and passion for music. She continues to inspire them to raise their piano performance skills to new heights. Our kids have achieved highest marks for Manitoba on their RCM exams and consistently got gold distinction and have been trophy winners at the Winnipeg Music Festival. They have also performed at the Musicians in the Making concerts at the concert hall and Skywalk concert series. In every performance opportunity Jacqueline challenges our kids to give their best each time. She has also gone out of her way to encourage them and give them emotional support in their other endeavours outside of music. We truly think our children will not be able to accomplish what they have done today if not for Jacqueline's influence. We are glad we made that decision four years ago to place our kids under Jacqueline's tutelage. Now we look forward to more fruitful musical experiences with her in the future!
- Abigail B.
When I initially began studying piano under Ms Jacqueline Ryz, my family and I were only expecting my musical abilities to develop. While I did receive a superior musical education, however, we were not anticipating the incredible character growth  I have gained underneath Ms Ryz's mentorship. Ms Ryz is unique in her diligent approach to teaching the art of piano. Not only does she apply her impressive professional experience to coach her students on the technical aspects of the instrument, but she instills a breathtaking artistry and musicianship into the playing of her students. Her  advice in terms of musical nuances, expertise, and commitment to the piano  push her students in the direction of perfection.
The habits of excellence she  demonstrates at the keyboard also rippled into all facets of my life. Lessons of resilience, focus, determination, confidence and grace that I have learned from her have given me a strong foundation that I use in my day-to-day life, as well as a platform to spring me into daring endeavors. Ms Ryz has given me a gift that is so precious: the gift of music. I have an ability to play beautiful music, express myself, and create art. I have gained an identity and a passion, but also, a dear mentor, to whom I will always be grateful. Her investment in my success both at and away from the piano bench, has bettered my person for a lifetime.
- Nika M
Jacqueline is a wonderful teacher!  I have been learning from her since I was 3 and half years old.  I am now 10 years old and just stared Grade 7 piano.   She is very patient and encouraging.  There are times when I have been stuck or making slow progress with a new song but Jacqueline knows exactly what steps I need to take in order to improve.  She is very supportive during these rough times, but also knows when to push me more so I can reach my full potential.  I have achieved many great results at the Winnipeg Music Festival, piano competitions and on my RCM exams.  Besides just learning piano in the studio, Jacqueline has given me many opportunities to perform in recitals and at the Musicians in the Making concerts.  I would not have accomplished this much without Jacqueline's guidance and teaching.  I am very lucky she is my piano teacher.
- Love, Alexus
One of the many things I have learned as an educator is that all children need an adult who believes in them. Jacqueline was that adult for me, and from what I can tell, for many others. Many beautiful things have come from the piano teacher and piano student relationship.  She believed in me and I achieved many things. I graduated from the School of Music at the University of Manitoba and I became a music educator. Her teaching is like the gardener who takes care and nurtures her plants. The gardener provides water, prevents weeds from growing and sooner than later the seed turns to a blossoming plant. Thank you, Jacqueline for believing in me.
- Christine, B.Mus (Music Education), B.Ed